About Us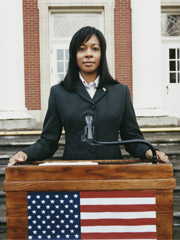 Law Offices of Demetrius T. Abraham LLC is a general practice firm that provides representation in the following practice areas: Criminal Defense, Family Law, Probate/Wills, and Personal Injury. We are a professional, courteous, and friendly company that works diligently to obtain the best results for our clients. From the moment our clients retain us, we focus on meeting their needs and focus on being available to guide them through every legal matter.
Our Motto is "Demanding justice for everyone". We believe in this principle and exemplify it in the way that we meticulously work on each case. We realize that justice is not just given, but it has to be demanded. Whether we are defending our clients in a criminal matter, or representing them in a divorce proceeding, we become relentless to achieve the objective.
Clients can rest assured when they establish a relationship with our company that their needs will take precedence and priority. We make it a practice to keep clients abreast of new developments happening with their case and clients can expect to be contacted within 24 hours after they have contacted our office.
We look forward to serving you in the future. If you have questions, or would like to schedule a consultation with an attorney, please call us at 706-690-5060. You can also email us at demetriust.law@att.net.